Gospel Missions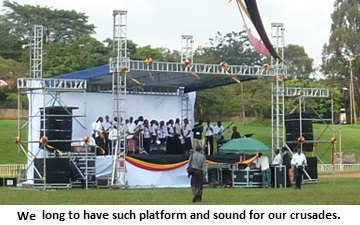 We have done a number of Gospel missions in various parts of Uganda and we look forward to doing a lot more in 2017. In our missions we reach out to the lost and teach believers, leaving them the task of the new converts and personal growth after we leave.

PRESENCE
For the last 3 years, we have been gathering in Lugogo Indoor Stadium to celebrate the end of the year, thanking God for both Old and New Year. So this happens every 31st December and this year we welcome you all to our 4th Presence Nite. Your support has gone long ways in getting all this done.
ECONOMICS
To equip the unemployed with tools for establishing income generating projects with minimal capital investment. To promote a saving culture by encouraging groups within micro communities.
HEALTH
To improve community health by promoting quality, household hygiene and sanitation. To sensitize communities about HIV/AIDS prevention, care and treatment.